Professional Sofa Cleaning & Sanitization Services in Dubai
Keeping your sofa clean can maintain its appearance and maintaining colors bright and fabrics as they should be. Also, sofa cleaning eliminates stains, dirt and grime are even more important if you have pets, extended exposure to such pollutants may degrade your sofa. Sofa Deep Cleaning service Dubai will give you the best cleaning employment and healthy cleaning service. The Healthy Living is the best outcome for you to take a step to clean your sofa.
It's important to maintaining a clean climate for the health of all humans, as their health is completely dependent on the environment. The sofa is a part of family living and to expect it to be clean always. Chip crumbs find their way into the cracks, drinks get spilled and pets' mud all over the surface of your sofa. Cleaning the sofa eliminates germs along with dirt and dust, resulting to flaunt better indoor quality, evacuating a breath of freshness in its wake.
Cleaning a sofa becomes a necessity for good and healthy living. Sofa cleaning is typically called deep vacuuming & sanitizing or shampooing and it leaves your sofa fresh & stainless in your home. Many sofa cleaning techniques rely on specialized machines and modern equipment. You do not have to clean your sofa daily but you should clean it once over at least every three months.
DIFFERENT TYPES OF SOFA CLEANING SERVICE IN DUBAI
Sofa Cleaning requires regular professional cleaning services to retain their comfort and beauty. Professional Sofa cleaning Dubai will provide you with the best experience of sofa cleaning and give you the best services to deep clean a sofa. Like The Healthy Living, it furnishes you with one of the most comfortable and gentle services you are wishing for. Here are some of our best technology and treatment:
DEEP VACUUMING AND OVERHEATED DRY STEAM SANITIZING
in this service our professional experienced hygiene technicians will first examine the sofa for the right type of service we can provide you with. In deep vacuuming and overheated dry steam sanitizing our hygiene professionals will first deep vacuuming the sofa from all the sides and our hygiene supervisor will make sure that your sofa is been deep vacuumed from all the sides and this process is done to extract all types of impurities like dead skin, dust mites, dust mites waste, and dust from all corners and joints of the sofa and after this comes the overheated dry steam sanitizing process in this process we will steam the sofa from all side along with the cushions and seats.
STAIN REMOVAL SHAMPOO SERVICE
This process is done when there is stain or marks on the sofa. In this service our professional experienced shampooing technician will first examine the sofa for its fabric that if it can be shampooed & for the stains as all the stains and marks are not always removable. Removal of stains and marks depends on the type and age of stain and There are lots of material which can damage by water or can be discolored. In this service we used our spray extractor shampoo machine first the shampoo and water mixture will be sprayed on the sofa and then it will be extracted by the same machine and while extraction it will be extracted with the stains and marks which are covering the beauty of your sofa.
in this service we first deep vacuum the sofa from all the sides to remove all the dry dust and impurities and once all the impurities are out of the sofa we do stain removal shampoo to remove all the stains so that your sofa is dust, impurities and stain free and is in it beautiful color once again.
In Steam sanitation, we use Polti Cimex Eradicator. It generates superheated dry steam up to 180° C to eliminate bacteria, dust mites, allergens, and other particles present in your sofa.
DISINFECTION & STERILIZATION
It kills 99.99% of bacteria, fungi, and spores, and Non-toxic disinfectants & deodorizers.
BENEFITS OF HIRING A PROFESSIONAL SOFA CLEANING DUBAI
We all would agree to the fact that we spent most of our time residing on our sofas. This means the sofas most tend to get infected with germs and bacteria's. These come along with you, while you visit some other place. Also, dust and dirt in the environment settle on the sofas, making them dirtier. All this makes sofas prone to harmful allergies, transfer of life-taking germs becomes easy, etc. That's why opting for a sofa cleaning service Dubai can be very helpful for us to keep things on track. The Healthy Living offers the best Dubai sofa cleaning services. Here we have shared some of the benefits of these sofa cleaning services by us
Eliminates Dust & Allergens
Ragweed, mold, dust, pollen and other allergens stick to our clothes, wherever we sit, or our clothes get rubbed too. No one can see these allergens with naked eyes, and no matter how much we try, staying away from them is always a doubtful scene. Making furniture the culprit is not so done, where the real culprits stick on our clothes and go wherever we go. Seeking professional sofa cleaning Dubai is a great option. These experts do the job with ease and zero hassle. They have been doing the job for years now, which means they do their job the best.
Getting sofa deep cleaning Dubai will eliminate the allergens and kill the bacteria in the sofa. Bacteria are very much prone to settle in the upholstery of the sofas we have at our home. The myth that a regular detergent wash of the sofa will do all the cleaning is all wrong. Getting them deep cleaned from our experts would do the job from the core. It will keep you away from any dangerous bacteria that would otherwise keep on residing in your sofas.
With time sofa gets old, irritation and itchiness from the sofas become a common problem. It is because of the dirt collected on the sofa, which attracts insect-like mosquitoes, bed bugs, etc. Killing the adult insects would be easy for us as they are visible, but what about the eggs that they have laid on the sofa? Well, we need a certain amount of temperature to kill these bugs and insects. Being the best sofa cleaning service in Dubai, The Healthy Living offers you a great cleaning experience.
Get Rid of Grease & Gloss
While living our life on the sofas we tend to spill food, oily fries, and what not on them. Getting sofas cleaned by professionals help us get rid of the stains and make the sofa look like a new one. These professionals do the sofa shampoo cleaning Dubai and leave no stains behind. Make your sofa look all new and welcoming with our services.
Keeping our clothes clean and tidy increases their shelf-life. Likewise, fabrics used for upholstery of the sofa require a different amount of temperature, detergents, soaps, wash and rinsing time. The right amount of everything would lead to the enhancement of the life of the sofas. You can avail these benefits with the sofa cleaning Dubai by The Healthy Living. We promise the best of every cleaning service in Dubai at the most affordable price. Give us a chance to be at your service, and we assure you of a great response in return.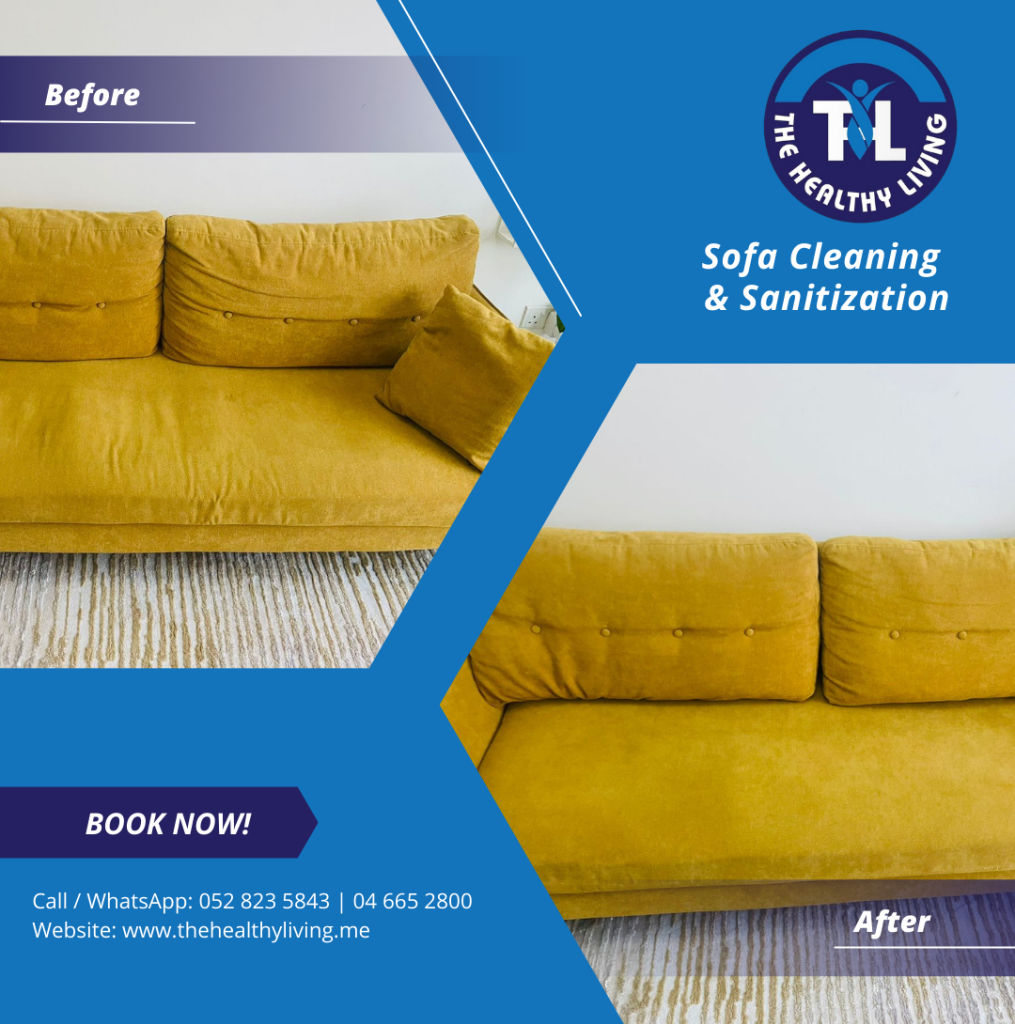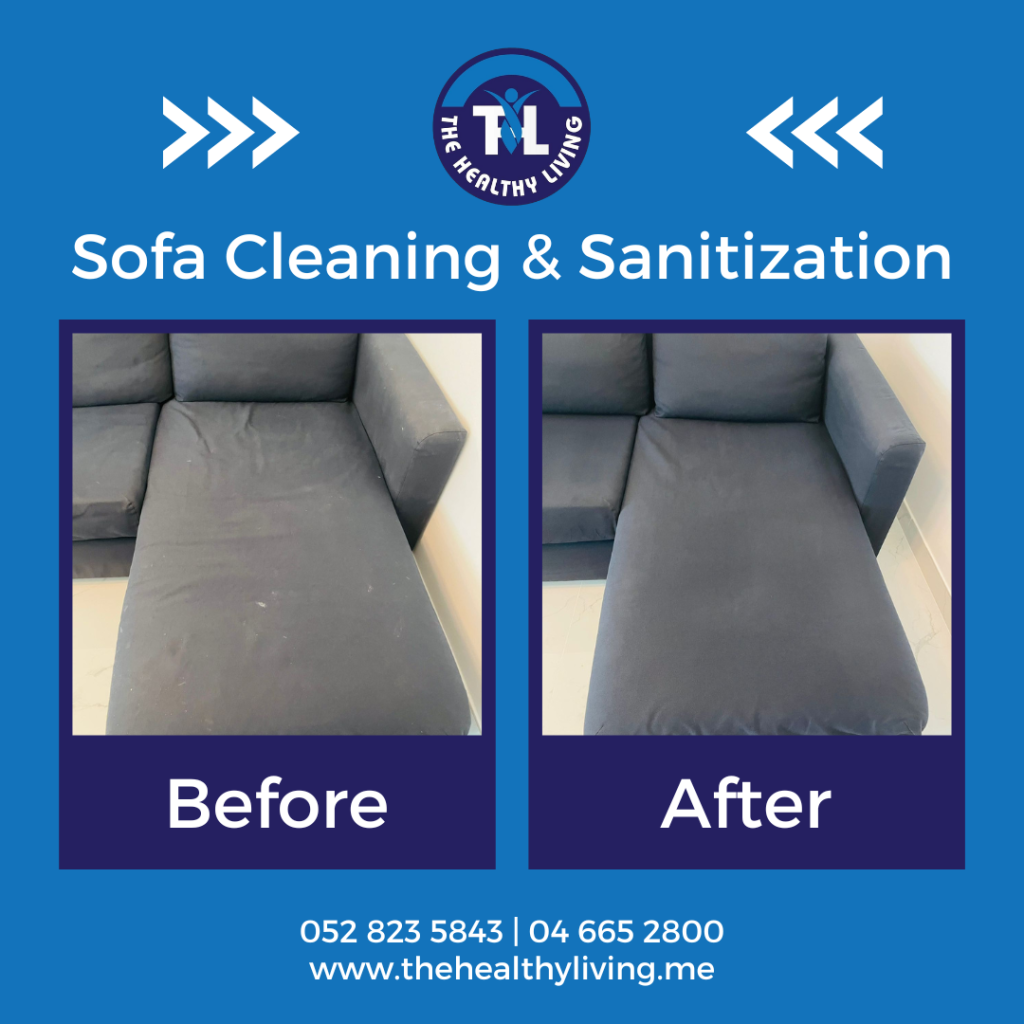 IMPORTANT THINGS TO DO WHEN YOU AVAIL PROFESSIONAL SOFA CLEANING DUBAI
There have been several examples where bad cleaning has destroyed good furniture. The only choice is being informed about what your sofa is all about, the equipment used, its structure, and how you can go about keeping it as clean as possible regularly. Sofas and couches are furniture sets that go through much abuse, wear, and tear. Sitting, jumping on them, dumping them with clothes, toys and knick-knacks can make even the best seem weathered and worn out in a short period. The Healthy Living is a reasonable choice for you to keep your sofa or other soft furniture clean.
WHY CHOOSE THE HEALTHY LIVING FOR THE PROFESSIONAL SOFA CLEANING DUBAI?
Healthy Living gives you a complete residential and commercial cleaning service and we aim to provide customers with a healthier lifestyle. Looking for the best sofa and soft furniture cleaning service Dubai has to offer? Then The Healthy Living is the best option for you. We have trained and experienced professionals in our service team, who have more than 8 years of a sofa and soft furniture sanitizing/cleaning experience in Dubai. Your sofa and soft furniture and upholstery get a lot of use. You constantly are sitting and using your furniture, and it gets a real workout over time, especially if you have children and pets.
Items bring spots and before you know it, your beautiful and loved sofa starts to look less than great. Sometimes to the point where you end up avoiding using the sofa. The Healthy Living has highly skilled and trained technicians. We use techniques that are state of the art, eco-friendly and very effective. In short, we are experts in our field so you can place your trust in us to deliver a Five Star quality service. Our company specializes in sanitizing and cleaning, Mattresses (Dry and chemical-free treatment), Carpets (Dry/Wet treatment depending on your need), Sofa (Dry/Wet treatment depending on your need).
Curtains (Dry and chemical-free treatment) We use high quality eco-friendly shampoo Technology in wet treatment that can remove stains and dirt. Our soft furniture cleaning method will leave it incredibly clean & neat, no other cleaning company in Dubai gives such a complete method that lends the results that we do. Our technicians clean most fabric varieties, every color, most upholstered furniture from your very first apartment sofa in the basement to the fine, expensive items in the formal living room area. If you are searching to have any of your soft furniture, mattresses, or fine fabrics sanitized or cleaned. The Healthy Living is the phrase you know you can trust for all your soft furniture and sofa cleaning needs.